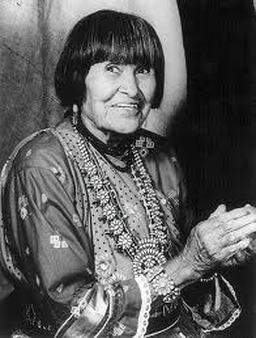 HERstory Highlight
Maria Martinez was the most famous Native American Indian potter of her time. During the 1890s she learned pottery skills from her aunt.
She worked alongside her family over the course of her whole life near Sante Fe, New Mexico. She became known for creating the thinnest pots in the least time and helped preserve the cultural styles of her ancestors during a time when tinware and enamelware was becoming widely available and popular.
She experimented with different techniques. Maria perfected a firing technique that turned her pots black and shiny, making them (and Maria) famous.
Maria was awarded two honorary doctorates. In 1978 she was offered a major exhibition by the Smithsonian Institution's Renwick Gallery.
Maria's love of clay and sharing that love with others brought joy to people across the country.
Gal Pal Highlight
Check out our special projects!
We used black and white modeling dough along with black paint to create small pots similar in style to the kind Maria made long ago…but no firing required!
The girls were inspired by the intricate designs Maria created on her pots! They enjoyed using metallic paint pens and black paint to create their own unique intricate designs.
It's always fun to learn new skills and the girls loved trying a variety of coiling techniques. The girls used their hands to roll out long clay coils. They tried twisting, braiding, rolling, and stacking. They also shaped their clay into arches to create handles. I loved that they were comfortable with squishing it all back together and giving it another go when it wasn't turning out as they expected! Way to go, girls!
They enjoyed discussing historical uses of pottery and bowls…food storage and water collection…plus ART!
I hope the girls have all figured out a good use for their small bowls!
Curious Creators
🌸 If your daughter loved learning about Maria Martinez, encourage her to try more handbuilding and sculpting activities.
⭐️ Modeling dough, air dry clay, modeling clay, polymer clay, and play dough are all great materials to use for handbuilding and sculpting.
🎨 Try your hand at thrown pottery with a beginner potter's wheel.
💡Consider unique camps during the summer that specialize in pottery and ceramics that include handbuilding, glazing, and firing pieces in a kiln.
🎉 One of my favorite activities from my childhood was the pottery camp I attended at a small art studio. My parents still have my pieces on display in their house! My own children developed an early love for ceramics while attending a City of Orlando summer camp at our local Orlando pottery studio when they were in Elementary School.
Below are some products that I have loved using over the years with children.
I receive a very small percentage of sales when you click and buy products that I recommend…Yay!
More Great Books
📚

Shaped by Her Hands, Potter Maria Martinez

by Anna Harber Freeman & Barbara Gonzales was the story featured last week. The girls loved Maria's determination to create unique pieces while also honoring her family's cultural traditions!
🎨 You might love adding the

CLAY LAB for Kids

and

Ceramics For Kids

to your at-home library. Both of these books are filled with project ideas for building and making with air-dry or polymer clay, and modeling dough. Fun!
Thank you for continuing to spread the word to your friends and family about the Big Dreams Bloom program!
I have so much fun also partnering with local business to create some special and unique opportunities.
Please be sure to follow on Instagram or Face Book for all of those special classes!
Check out all the options for both virtual and in-person classes, workshops, and camps on the BDB website!